C.C.CATCH: I Will Never Forget Chelyabinsk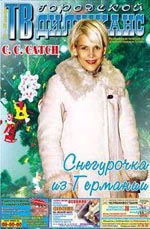 Today she is 37, but she looks at least 10 years younger. Not tall, delicate charming blonde, she, like all other European stars, who I had a chance to speak to, is very friendly, modest and sociable. And who dares to speak about her unimaginable whims and peevish character? An effective auto, "Вдова Клико Понсардин" or "Моёт и Шандон" in her make-up room before the concert, "and, please, let the temperature in the make-up room be not less than 30 degrees", these are, perhaps, the main requests of Mrs. C.C.CATCH.
She arrived to Chelyabinsk from Yekaterinburg, and left for it again 5 hours later: there were no hotels, no restaurants, no excursions about the city, no shopping - no time for all these. Behind - there were concerts in Novosibirsk, Pervouralsk, Yekaterinburg, "and, as we can say, in Chelyabinsk. I am tired". And before - there was "a long flight to my native Germany through Moscow and concerts there, including New Year's night". That's why she didn't leave the Sport Centre: a light vegetarian supper in the cafe of a hospitable couple of the Tseretelys, a fast sound check, the concert, a pair of autographs for the lucky fans, having managed to make their way through the security, and, finally, the exclusive interview for City Post Coach. And after all to Koltsovo:
-Hello, my name is Andrew!
-Hi, my name is Caro! (Let me remind you that the real name of my vis-a-vis is Carolina Catherine Muller. The stage name of C.C.Catch was later invented by Dieter Bohlen. By the way, the singer's complete biography was published in the 51st issue of City Post Coach for the previous year - author).
- I am very glad to meet you, Caro. Because my generation - those who are about 30 today - has grown up listening to your music. (At this Caro smiles contentedly - author). The middle of the 80s was your triumph, the triumph of MODERN TALKING, the triumph of BAD BOYS BLUE!... By the way I have already talked to Thomas Anders and Bad Boys Blue:
- Really?!
- Yes, and it was here, in Chelyabinsk. They came here in different years. Here are our photos. Have a look at them:.
- Oh, these are my friends!!!
Caro demonstrates the photos to the people around her, her father Jurgen Muller looks at them with great interest, in spite of his age (in 2002 he will be 60 - author) he is still accompanying his daughter in her trips. But, unfortunately, he never gives any interviews:
At this moment KRAYZEE runs up to us (Kenneth Lewis, born in California, a dark-skinned rapper, who has already worked with C.C.Catch for several years; his voice sounds in "C.C.Catch Megamix 98" and in the new version of "I Can Lose My Heart"; a protege of the same Dieter Bohlen; Kenneth cooperated with "TOUCHE", one of Dieter Bohlen's projects), his eyes shining: "These are my friends, too! Oh, John! Oh, Thomas!" After this he sits down on the sofa demonstrating his intent to take part in the talk.
- Caro, who was the first to tell you that you are very popular in Russia and when?
- Oh!... It happened long ago. Very long ago: I am trying to remember who told me about it: (She starts to think). No, I can't. By the way, it's a very interesting question!... You know, something reminds me that it became known to me very unexpectedly! I think I even didn't believe in it at first.
- And what did you know about Ural before this trip?
- (Laughing). Very little. To be more exact - nothing. Just the name. On the whole, it is a wonderful trip! And very interesting concerning some experience for me:
- And what sticks to your memory most of all? What will recur to your memory when you hear the word "Ural"?
KRAYZEE: The people living in the Urals.
- Yes, your people are wonderful! They are so friendly, kind and hospitable. It is rare that you can meet such hearty people. You saw what was happening at the concert today! Thank you for everything, I will never forget Chelyabinsk.
- Caro, how can you evaluate this year for you? (Let me remind you that our meeting was held on December 29 - author).
- You know it was not bad for me. I am pleased with it. To begin with, I have awakened from my long sleep at last, as one could say. Nobody has heard and seen me for about 10 years:
- As far as I know you left Germany at the end of the 1980s and went to live in London.
- Yes, and I still live there.
- It is interesting to know if you are famous in England.
- No, no: I have never been. I devoted these 10 years to myself. At first I was simply having a rest, then due to my husband (his name is Erivata, they have been married since 1998 - author) I became fond of yoga and other ways of meditation. In the course of time I started to write poems, then to draw: By the way they often ask me: "Caroline, in case you didn't become a singer, what would you like to be?" Earlier I was categorical: "Nobody! I can't imagine my life without singing!" But now I think I would like to be an artist, too. (Laughing). And from the very beginning of this year I plunged into the forgotten world of show business. I spent spring and almost all summer on a joint tour with Bad Boys Blue, FANCY and SILENT CIRCLE. I have gone round almost all Germany and understood they still remembered me, they hadn't forgotten me, they were waiting for my new songs - it is an indescribable sense of joy! I have visited your country for several times. These were mostly club concerts. (In Krasnoyarsk, Kiev, Moscow, Alma-Ata, on the central squares of Archangelsk and Narian-Mar, as well as participation in the anniversary concert devoted to the 10th anniversary of Lukoil Company - author). And now this Ural tour. You've got such a big hall here!.. (By the way, it was for the first time that Caroline sang on such a big covered stage in Russia, as our Sports Palace - author). What else?.. I am a blonde now, and I prefer short haircuts. I think I am more energetic on the stage. I thank my two wonderful dancers, who started to work with me not long ago. They are from Berlin; their names are Marko Wais and Mark Rode, 27 and 25 years old. They are both aerobics trainers and took part in various fashion-shows, and Mark is the choreographer of my show. In general my present team is not large: me, my father, Krayzee, dancers, sound producer Yen Bernd and our manager Antiye Frentsel, who is the president of my fan club at the same time. (Thinking). You know, it is probably only once that I was scared this year. I mean the acts of terrorism in America. It was really terrible. And it concerned us as well. I mean Krayzee:
Krayzee: The thing is that my mother works in Pentagon. You can't just imagine my state before I could get through!
- By the way we were in Moscow at that time and learnt everything from Russian TV programs.
- Caro, it seems to me that you're not completely satisfied with your present popularity.
- A-a-a-mm: No! (Laughing). Of course it can't be compared with that of the second half of the 1980s. But never mind, I hope I will repair for the omission. At present I am recording some new things, and I hope the audience will like them as I wrote them myself. I am going to issue my new album in 2002: Yes, I am happy, really happy that I am again on the stage, and that I have returned. It is so great to record new music, to give concerts, to meet journalists: (Laughing).
- Has the German show business forgotten you yet?
- No, I've still got many friends there. Very many, I can't even name them all! The same Thomas Anders, for example. (Caro again takes my photos - author).
At that moment I wanted to ask: "And Dieter Bohlen?" But I didn't do it. I tried to meet the requirements of the tour organizers, who asked me not to ask questions regarding Dieter Bohlen, her former producer, who wrote a great number of hits for her, and due to whom C.C.Catch became popular at that time. Why did they ask me? Because such questions are very unpleasant to Mrs. Muller as they parted far from being friends: (The reason of their break is described in that very City Post Coach # 51 for the year of 2001 in the article "A Snow Maiden from Germany"). I understand it, but this is the highlight of the program! Relations between Dieter and Caro is perhaps the most burning topic of conversation among the fans belonging to both parties, and they will not forgive me if I avoid the topic. "How can I do it with more delicacy?" I was racking my brains over it at that moment and in some minutes I asked the question:
- Caro, do you like the songs Dieter writes for Modern Talking today?
- (Smiling). Do you want an honest answer? I haven't heard any of them. I live in London you know. (The answer is irrefragable, isn't it? - author).
Krayzee: And I live in Hamburg where they are extraordinary popular I must say. We have to meet very often. They are good fellows. Just moving up in all charts.
- Caro, let us speak about your life in London. What is your usual day? What does it consist of?
- Well, I usually get up:
- Krayzee: At two o'clock in the afternoon. (Laughter).
- I have breakfast, dress and go shopping. Or I just lie at home and watch video for the whole day. I adore cinema! I like to go to the cinema theatres very much. The film about Harry Potter is just a super one! Have you seen it? I recommend.
- And do you go in for sports, read books?
- Sports? I am not very much fond of it. And as for reading, yes, I like to read.
Krayzee: I am a sportsman here. I play American football!
- Have you ever ridden horses?
- Is it a hint about the coming Horse's Year?.. (Laughter). No, unfortunately, never in my life.
They point at the clock. Unfortunately it is time to finish our talk. I had so little time to speak about everything. But nothing to do - they won't delay the flight because of us:
- Caro, thank you for the interview.
- Thank you very much, Andrew!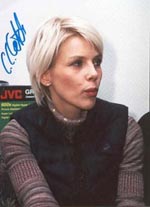 - Happy New Year! And finally, I want to know what you will wish yourself in the New Year?
- I desire that the new music which we are doing now be more popular than that before and now, and that people like it: Thank you! Happy New Year!
It were Andrei ORLOV and the photographer Anton CHIRIKOV who were melting before the Snow Maiden's eyes.
P.S. Our talk with Caro would be impossible without high quality interpreting of the Deputy Director of Prima Vista Translation Agency and a good friend of City Post Coach Alexander BAKIN. Thank you very much, Sasha!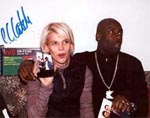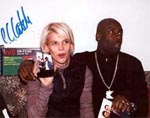 Andrey Orlov