Minaev

Sergey Minaev is a singer, showman, disc-jockey!!! Interpreter of foreign smash-hits, singing foreign songs in Russian. He's a singular joker, singing seriously about the funny things and vice versa.
The songs with Russian lyrics that he wrote and sang in a bluntly mocking manner, became as popular as their original versions!!!
One has a feeling as if these songs are sung by different people with different characters, both in tenor and bass voice, feminine and masculine.
Modern Talking, Blue System, Baltimora, Gazebo, Bad Boys Blue, Lian Ross, Eddy Huntington, Dead or Alive, Rocky M, Star de la ref , Azul y Negro, Murray Haad, Wham - this is not the complete list of the foreign bands, whose songs Sergey Minaev turned into cover versions without using word-by-word translation.
He's been on tour in Hungary, Israel, Ireland, Germany, France. He visited my city more than once. I personally view him as a legend, a pioneer of the Russian disco music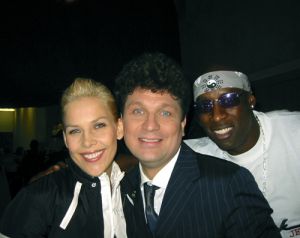 Video