C.C.Catch: I Dream Of Singing John Lennon's Song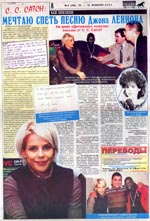 Recently "Dilizhans" received a letter from C.C.Catch!
It's an interesting story, really.
I have an old friend in Chelyabinsk Sergey SAMOILOV, who loves disco of the 80's and is such a devoted fan of C.C.CATCH that he even opened a web-site of this singer in the Internet - www.catch.by.ru. Visit this site: today it's without doubt the most comprehensive, informative, true and colorful site about Catch "The Cat" (her fans called her like that because of her unusual, cat-like look).
So there were three of us: Sergey, press photographer and me on December 29, 2001, the day when your humble servant took an exclusive interview with the German "Snegurochka" who was visiting Chelyabinsk then (the interview was published in N 2, 2002). Later Sergey sent a copy of newspaper to Germany, to home address of her father Peter MULLER. Reply was very prompt to our great surprise, I should say. We received a parcel literally stuffed with souvenirs, rare pictures with autographs and personal thanks from C.C.Catch for "very warm Ural interview I remember very well".
The further the better. Two weeks before this New Year we sent to Karo a new letter with greetings and also asked her as a friend "to answer a number of questions of much interest to all fans". And Karo replied again! She wrote her answers in our question form with her own hand (!) plus this autograph for you!
- Karolina, we haven't seen you for a year. What kind of year was it for you? Was it good rather than bad or vice versa?
- This year was a good year for me. I've worked a lot (last year Karo toured a lot in Russia, performing together with no less famous "Bad Boys Blue", "London Beat", Paradisio, "Ottawan", Desireless, "Joy", "Eruptions". The First Channel will soon rebroadcast the show "Disco of the 80's" in which Karo took part. This show was shown on TV in New Year - auth.), but I also took time out to enjoy myself. I feel, I have learned a lot about myself this year, but life goes on and of course I keep on learning, everyday, you know.
- We know so little of your family...
- I have three brothers, one is married and has a family. My other brother is engaged, to be married soon and one brother has a girlfriend. My father is my manager, he organizes my Live Tours.
- I know that you and your mother used to live in Holland. When exactly did you move to Germany?
- That's right, I was born in Holland and lived there until I was 14 years old. Then we moved to Germany where I lived for 10 years and then moved to England, London.
- Has everything that little Karo dreamt of when a child come true?
- Some of my dreams have come true, but I keep on dreaming, because I, sometimes, feel my life has just began and I feel there is still a lot to come.
- If I am not mistaken, you have been in the show business for 20 years now. If you could make the time go back and begin it all anew, what would it be that you would change in your private life and in your career?
- Interesting question... Of course there are things in my life, I like less and some I like better, but my life has brought me EVERYTHING. I wouldn't change a thing, because my life has made me who I am, and has brought some wonderful people to me.
- Your songs are very popular all over Europe. More than that, there are cover versions of your hits in many countries - Vietnam, Portugal, Poland, Germany, even Russia. What is your attitude to this fact? Would you yourself like to re-record somebody's song? If you would, which song would you choose?
- I like the fact, that cover versions of my songs have been made. If I could record a song, it would be "Imagine" by John Lennon, because the lyrics are great and stand for peace. This song is not a song one can easily cover because John Lennon did it perfect.
- Karo, what are your plans for this year?
- I am planning to record my new album and will soon start working on new material. But first I will release a new single. Then after promotion I'll go on a big tour. Who knows, maybe we'll see each other again?
Many thanks to Translation Agency "Prima Vista" for efficient and always high-quality translation - this time of handwriting of C.C.Catch.
To the readers of Gorodskoi Dilizhans!
Wish you all the very best, good health, happiness and LOTS OF LOVE!
C. C. Catch
Andrey Orlov