Optimal

Optimal –the girl group from Osnabrück!
SABINE, CAROL, SYLVIA, CLAUDIA. The girls were competing with each other since the time of would-be star shows, where each of them performed solo. Their producer was PETER KENT. They released two singles; the first one is called "er war magnetisch" (in German). This song was among a hundred hits in charts. They also recorded a number of TV performances. The second song is called "optimal" (just as the band's name), it is also in German. "er war magnetisch" was sung by three of the four band members, because Sylvia had a bad vocal. That is why Sabine – a short blonde) sang her part. This single shows what a wonderful voice she's got. The song "er war magnetisch" was a success, and it was played by music stations. It's quite possible that the reason was that the song was written by a leading singer of the German band "geier sturzflug", whose song "bruttosozial prudukt" was a great hit at that time.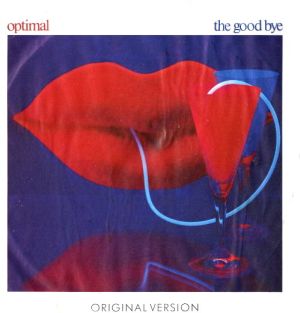 The single was released in October 1983. The second single was a song in English "the goodbye", however, Ñ.Ñ. Catch and other girls were only back vocalists. A girl from Holland sang the leading part. It was she who sang the song "kimi gasuki ". Later on a maxisingle with a longer version of "the goodbye" was released. This song was released in early 1984 Mega-producer Diter Bolen offered Karolina to take part in his new project. She drew his attention by her "brilliant" voice right away. The girl-band naturally dissolved. SABINE performed in "SECRET STAR" later. This band produced a cover version of one of C.C.CATCH's hits. As for SYLVIA and CLAUDIA, I don't know how their careers have gone.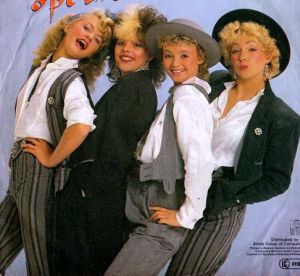 Sabine Lurenbaum
Caroline Müller
Sylvia Frotschel
Claudia Sturzenbecher
The hour of triumph of singing and dancing women's quartet Optimal came on "SILVESTERPARTY". The girls sang in frount of the million TV auditory on NEW YEAR night on ZDF channel.
Producer Gerd-Michael began the preparation of quartet's songs together with the star-producer of that time Peter Kent.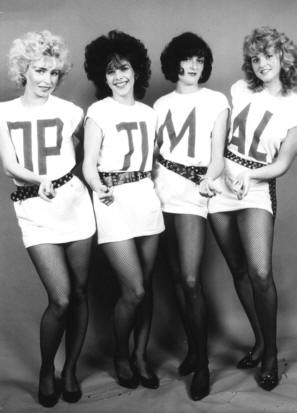 ER WAR MAGNETISCH IS A SWEET AND MERRY SONG FOR ALL THESE PEOPLE WHO DON'T WANT TO WEAR DARK AND GREY CLOTHES.
Click link to play track