Romania 2009

Sandra, Toto Cutugno, Demis Roussos, Boney M and now C.C.Catch! Lots of people were interested in this concert and the ticket-sales were really high.
Caroline stayed in a silent hotel and required soups, rice, vegetarian sushi, vegetables, mineral water and champagne. The streets were empty this Saturday evening - everyone was on the concert.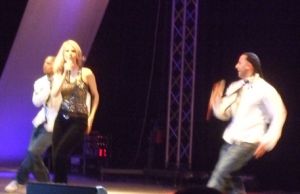 For one hour people returned back to 80s and danced like crazy. The concert hall turned into real disco-club. From the first songs most of the 4000 spectators left their places and went to the scene trying to photo the star. No one could keep his place. Two girls with their friend dressed in vests were dancing the whole time. Romania was crying: "Bravo C.C.Catch!" At the end of the concert Caroline had to sing Megamix twice! And spent a lot of time giving autographs.
Finally the disco-show had come to an end and Caroline went back to Germany where she has a small cosy house. But soon she is going to visit Russia and record a new album devoted to love. I will be happy if she makes the cover for it herself because she is also a good artist but only as a hobby.
On Moday she was invited to the "Direct Approach" TV show on channel "Antena 1".
Romanian stars were singing songs of the 80s
Caroline had also answered some questions for one of the journals.
- Are you married?
- I was married for five years. Now we are separate but still friends and can talk about many things that happen in our lives. He's got a new family, lives in the US with his wife and two-year-old daughter.
- Are you interested in politics?
- We all can talk about politics but actually don't like it. I know that we can't have ideal world but all people need peace. I think Dalai Lama is the best example for us.
Sergey Samoylov